Land Rover Tampa Honored With Prestigious Land Rover Retailer Excellence Award, Named #1 Retailer In The USA
2017 VICTORY AGAIN SETS NEW ALL-TIME RECORD FOR LAND ROVER
Excellence awards earned by a single retailer
Land Rover North America recently announced the recipients of the 2017/18 Land Rover Pinnacle Retailer Excellence Award. Land Rover Tampa is among the select group of Land Rover retailers to achieve this honorable recognition. Land Rover Tampa also achieved the Marque of Distinction Award for earning the title of the #1 Land Rover Retailer in the United States.
Notably, this is Land Rover Tampa's 14th Pinnacle Club Award and 3rd Marque of Distinction Award, more wins than any other retailer in the United States - all of which have occurred under the management of Mrs. Jennifer Stals, a nationally renowned Land Rover leader committed to customer satisfaction.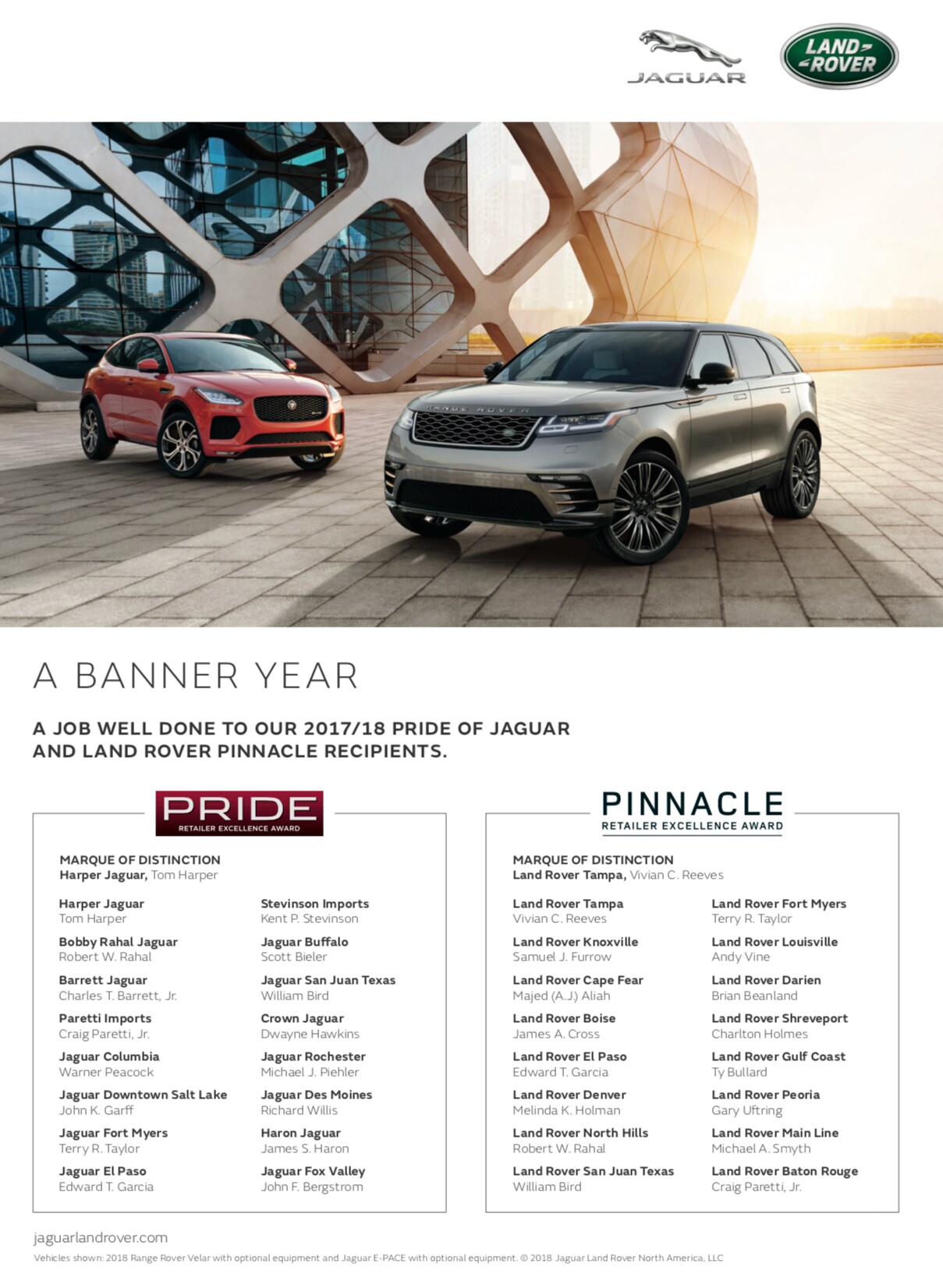 "Land Rover Tampa is extremely proud to accept this distinction," said Jennifer Stals, Centre Manager. "Our team is dedicated to providing exceptional and personalized service and are honored that our commitment to every one of our customers and to the Land Rover brand has been recognized with this award." 
Land Rover Pinnacle winners are retailers who have demonstrated a commitment to excellence and the Land Rover brand. Sixteen top-

"We are proud to recognize our leading retailers for their outstanding performance and commitment to the Jaguar and Land Rover brands," said Joe Eberhardt, President & CEO, Jaguar Land Rover North America, LLC. "We achieved another record sales year in the U.S. last year, in large part due to the high quality service and outstanding ownership experience these retailers provide to our customers every day."performing Land Rover retailers are selected each year based upon core business categories including customer advocacy, sales and aftersales.

For more information on Land Rover Tampa, visit landrovertampa.net
Land Rover Tampa is part of Reeves Import Motorcars Inc., a family owned and operated business since 1971 that is currently led by Mrs. Vivian C. Reeves, President and CEO.
Confidence-inspiring capabilities and outstanding design set Land Rover vehicles apart. At Land Rover Tampa, we strive for business excellence, customer service and sales satisfaction. And now, thanks to our customers, Land Rover Tampa has earned the coveted Pinnacle Retailer Excellence Award, one of only 16 Land Rover Retailers to be so honored this year.
We take pride in this crowning achievement, and are committed to living up to its principles every day, for every customer, making your Land Rover experience exceptional.
Visit us at:
Land Rover Tampa
11301 N. Florida Ave
Tampa, FL 33612