How Do You Change a Car Tire?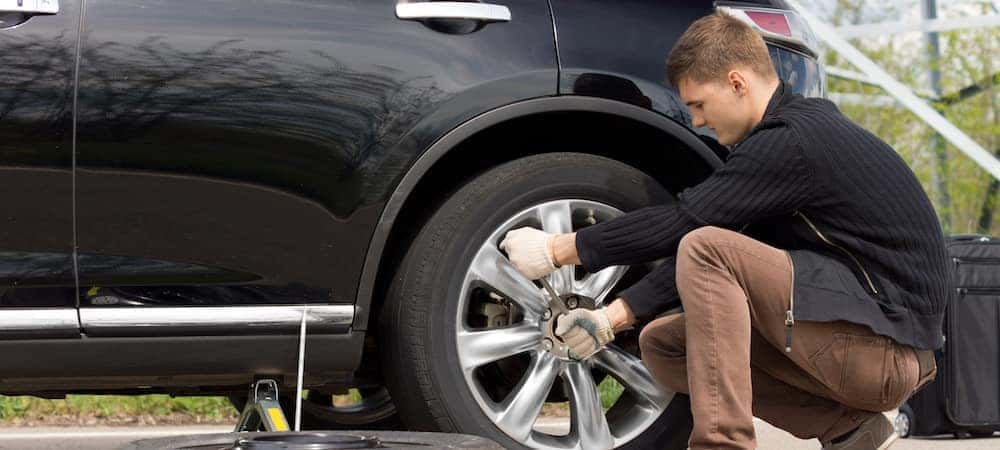 ---
Learning how to change car tires is a valuable skill set that could prevent you from having to await help on the side of the road in Tampa. Additionally, this skill could come in handy should you want to rotate your own tires or change out any of your worn car tires. In the following guide, our Land Rover Tampa service center experts have compiled the basic steps to follow in order to change a car tire.
Changing Your Car Tires
To remove a flat tire or change your Land Rover car tires for any other reason, you'll need to collect the necessary tools. This would include a jack, lug wrench, the spare tire or new tire(s), and your Land Rover owner's manual. Replacing, rotating, or changing the tires on your own vehicle is a pretty painless process if you follow these instructions:
Safety first: if you're stranded in Clearwater with a flat, put on your hazards and move your car out of the flow of traffic.
Apply your vehicle's parking brake and place your wheel wedges under your tires.
Then, remove the wheel cover or hubcap from the affected tire.
Begin to loosen the lug-nuts using the recommended star shape (moving diagonal from each lug nut to the next).
Next, use the jack to raise your vehicle.
Now, fully remove the lug nuts.
Remove the damaged or old tire and place your spare tire or new tire in its place.
Tighten the lug nuts in the same star formation.
Safely lower your vehicle to the ground.
Remove the jack and stow away your tools.
How Often Should You Change Car Tires?
How often Wesley Chapel drivers should change their tires depends on a few factors. Take note of:
When you had your last rotation
Terrain
Weather
Driving habits
Tire pressure
Tread depth
Overall wear and tear
Balding
Mileage
Any suspicious sounds
As a good rule of thumb for maintaining optimal vehicle and tire condition, a tire rotation should be done at each oil change, or every six months to a year. Regular tire rotations per your Land Rover owner's manual recommended maintenance schedule will ensure you change your tires less often and safely get the most out of them.
Contact our Land Rover Tampa Service Center with Your Tire Needs
If you would prefer a factory-trained technician from our Land Rover Tampa service center to perform your tire change for you, we are happy to do so. Additionally, we encourage Wesley Chapel drivers due for a tire rotation or curious about our current new tire specials to contact us or stop by the dealership today. We are committed to keeping Land Rover drivers safe on Tampa roads!